Monday, September 6th is Labor Day. 
There are no LIVE classes, but students do still have course work assigned.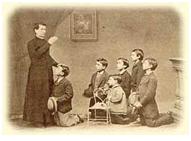 Saint John Bosco
The Opening School Prayer has been

moved

to

Monday, Sept. 13th

.
It will still be at 7 p.m. Central Time and the Link will be posted on the Dashboard. 
The date was changed due to the closure.