Schedule of Live Classes 2023-2024
All Class Times are Central Time.   Times are subject to change as courses fill and are added.  Classes meet formally once per week.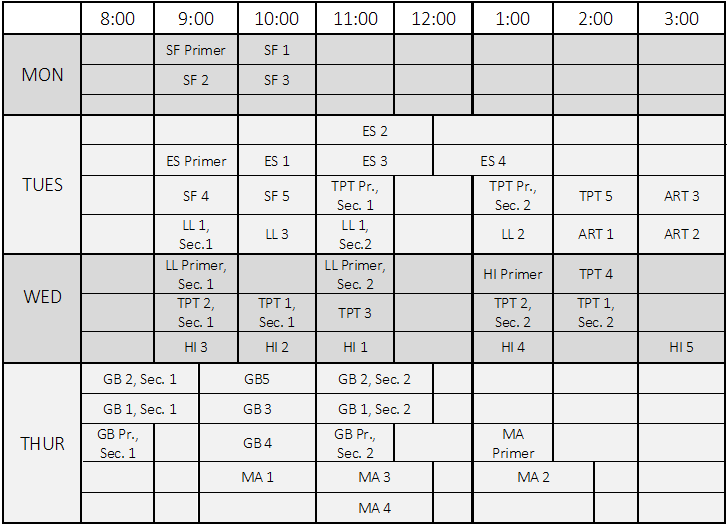 Abbreviations: SF (Spiritual Formation), ES (Empirical Science), TPT (Trivium-Philosophy-Theology), LL (Legamus Latina), GB (Great Books), HIS (History), GER (German), Sect. (section), Pr. (Primer

Not Listed Here:

July 13: Last day to withdraw and receive a full refund.
August 17-18: Orientation
New Student Orientation Meetings ~ New students must attend one

Aug. 17, 8:00 A.M
Aug. 18, 8:00 A.M.

Parent Orientation Meetings ~ Parents must attend one.

Aug. 17, 9:00 A.M.
Aug. 17, 8:00 P.M.
Aug. 18, 12:00 NOON
Aug. 18, 8:30 P.M.

Opening School Prayer ~ All families are strongly encouraged to attend.
August 17: First Student Workday
August 25: Last day to withdraw and receive 80% refund
September 4: Labor Day ~ School Closed for the Day
September 5-8: Review and Assessment Days
September 8: Last day to withdraw and receive a 50% refund
Oct. 2-6: Fall Holiday ~ School Closed for the Week
November 1: All Saints ~ Special Schedule
November 20-24: Thanksgiving Holiday~ School Closed for the Week
December 8:  Feast of the Immaculate Conception ~ Special Schedule
December 18-19: Work Grace Period & Remedial Days
December 20 - January 7: Christmas Holiday ~ School Closed
January 8: First Student Workday
January 22-26: Spirit Week ~ Feast of St. Thomas Aquinas, 28th
February 12-16: Spring Holiday ~ School Closed for the Week
Mar 23-April 7: Easter Holiday ~ Triduum & the Octave ~ School Closed
May 7: Feast of St. Rose Venerini
May 20-21: Work Grace Period & Remedial Days