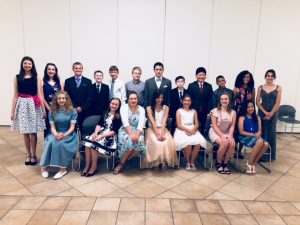 May 22-23, 2018 were a big couple of days for the Broken Arrow Schola Rosa Co-op, which Alecia Rolling was privileged to share in as a speaker, attendee, and comrade. 
The Broken Arrow Intermediate Group has been active for 5 years now, and just this year formed the very secret, Thomas Aquinas Society, for its Intermediate members. The year culminated with a Scholar Ball and was a great opportunity to celebrate the achievements of older students as a separate event from their younger siblings' Potluck Raffle and Rewards. Mrs. Rolling was invited to attend the Scholar Ball as a speaker to the 6th-7th graders. 
In addition to the Scholar Ball, Broken Arrow co-op members scheduled workshops to precede the ball, the workshops being for the parents of the group. This allowed parents an opportunity for academic growth as well by hosting a speaker and having discussions. 
2018 Scholar Ball and Co-op Workshops