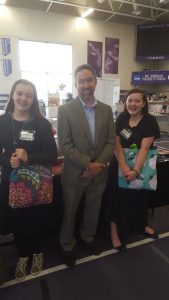 June 1-2, 2018 Mr. Kenneth Rolling spoke at the Minnesota Catholic Home Educators Conference. Both he and his wife attended a booth in the Vendor Hall, where they enjoyed many conversations with conference attendees. MCHEC had done a fantastic job each year of bringing in speakers to rekindle a desire for homeschooling in the hearts of parents, some of which are exhausted and others of which are enthusiastic about the next year. Such a mixture of energies and such a blend of speakers each year has been a great motivating force for mothers and fathers in every stage of family life. This is truly a conference worth marking your calendars for each year! 
Mr. Rolling spoke as a featured speaker on the following topic:  Dinner with Socrates: How to Make the Table a Place of Discussion ~ Socratic discussion teaches students to think clearly, speak forcefully, and relish the search for truth in a uniquely self-guided way. It is often touted as a strength of Classical Education, but is as often neglected in the home for logistical reasons. With noisy infants, boisterous kids, aloof teenagers, and tired parents, how could you have a real conversation? Come and learn how to make your supper table talk a Socratic dialogue—invite Socrates to dinner!
You may purchase an MP3 track of this speech here.
You may find the other speakers from the conference, including the Key Note Speaker Dr. Ray Guarendi, at the above link as well. Consider purchasing a CD to hear all of them in the comfort of your car and to support the efforts of this conference! 
In addition to his featured talk, Mr. Rolling also hosted a workshop on "Managing Middle School Monsters." This is always a lively and helpful workshop for parents and teenagers (yes, some students attended this one!). 
R.A.S. Online Academy and Schola Rosa look forward to attending the MCHEC again in the future. 
Kenneth Rolling speaks at MCHEC 2018