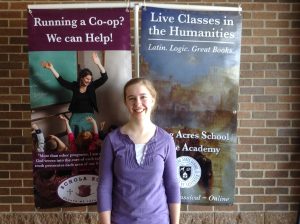 The Classic Learning Test is a new standard entrance exam for high school students nationwide, and R.A.S. Online Academy and Schola Rosa proudly encourage students to take the Classic Learning Test.
This year we are particularly proud to announce that Marie, a current R.A.S. Online Academy student, and Schola Rosa family member scored 114 on the Classic Learning Test in November 2017, which was the highest score in the country for that test date. In addition, she had the highest score of any female to take the test in the history of the CLT up to that date.
She is now eligible for scholarships at many of the leading Catholic universities, including Christendom College, a place of great interest for her now, thanks to her high score.
Thank you to Marie and her family for allowing us to share the news with the rest of the R.A.S. Online Academy and Schola Rosa community! May God bless her with many more such successes as she decides where to go.
Why the Classic Learning Test? 
The Classic Learning Test (CLT) is the new standard for college entrance exams. 95% of CLT educators in a survey state that they would recommend the CLT for students. Additionally, students have stated that the CLT is a positive experience when compared to the SAT and ACT.
"Students who study for the Classic Learning Test will enter college with the right formation, and their teachers will notice it immediately. I am certain that if, ten years from now, we could collect data on the performance of CLT students after one year of college, we would find a stark demonstration of superior achievement." 
– Dr. Mark Bauerlein, Professor of English at Emory University and renowned author
READ MORE at the Classic Learning Test website!
Classic Learning Test Achievement by R.A.S. Student